Hot News
Minister Tsai meets Mr. VU, Representative of Viet Nam Economic and Cultural office in Taipei, in hope of strengthening criminal judicial cooperation between Taiwan and Vietnam
Publication Date:
Last updated:
View count:379
On the afternoon of April 13, Mr. Vũ Tiến Dũng, Representative of Viet Nam Economic and Cultural Office in Taipei, along with Mr. PHAN CHI TRUNG, Director of the Department of Overseas Community affairs and Mr. DO MINH HOAI, Director of the Division of Labor Administration visited the Ministry of Justice (MOJ). Minister Tsai received the distinguished guests in person, accompanied by Deputy Director General Wang Nanjiun of the Department of International and Cross-Strait Legal Affairs (hereinafter DICLA), MOJ, and Prosecutor Wang Peiju of the DICLA.
Representative Vũ took the office in December 2021. Minister Tsai welcomed Vũ and expressed his acknowledgement on multiple progressing cooperation on law enforcement, in the hope of strengthening bilateral cooperation on combatting crimes and mutual legal assistance. Vũ expressed his willingness to assist in coordination on mutual legal cooperation with a focus on enhancing protection of the Vietnamese people.
Tsai also mentioned that he has visited Viet Nam twice on official occasion in his judicial career and how he was deeply impressed by its beauty. Representative Vũ stated that approximately 380,000 Viet Nam citizens are working, studying or bemarrying in Taiwan and the people of the two entities share similar culture and customs, that Viet Nam and Taiwan not only are significant partners in terms of bilateral economy and trade, but also fervently communicate with respect to education and culture, and that he is willing to make his best effort and promote cooperative relationships in every aspect.
Tsai emphasized that Taiwan and Viet Nam has long been formulated deep-rooted foundation in judicial cooperation. Communication on mutual legal assistance and cooperation between the two is frequent and smooth; basis of mutual trust is also fundamental and well-established. If Taiwan and Viet Nam could deepen their cooperation on mutual legal assistance, it will be significantly meaningful to the rights and interests of the people on both sides.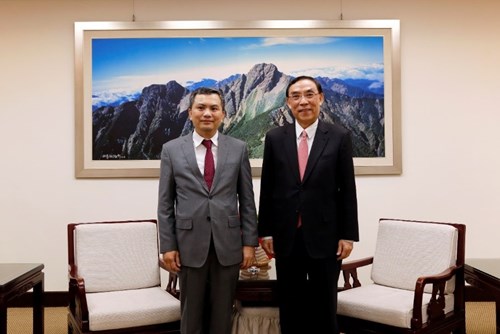 Minister Tsai (right) meets Representative Vũ (left) in the Ministry of Justice.
From left to right:
Director PHAN CHI TRUNG, Director DO MINH HOAI, Representative Vũ, Minister Tsai, Deputy Director General Wang Nanjuin, Prosecutor Wang Peiju, Section Staff Lin Li-Feng